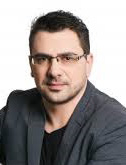 PEARSON
Plenary: "International Exams for Everyone"
Abstract: Pearson has the largest portfolio of ESOL tests in the industry. Seize the opportunity to learn more about PEARSON exams: PTE General, PTE Young Learners, PTE Academic and LCCI and JETSET English Qualifications. The main objective of this presentation will be to put PTE General in the context of the wider Pearson English assessment suite. We will learn about their strengths and recognition in the worldwide context.
Workshop: "Motivating 21st Century Teenage Students in the English Language Classroom"
Abstract: There are several reasons why we should use technology at school: to make lessons more interesting, so that students could understand better and remember more easily, as well as use the Internet wisely. It is also us, teachers, who already are or soon will be expected to include the ability to use information and technology at work, in the English classroom.
At the same time, a well organized digital school cannot lack traditional ways of teaching! What we should aim for is a wise blend of best analogue practices and modern solutions. During the session we will present concrete answers and ideas which will enable the teachers to implement high-tech solutions in conditions typical for most schools in Eastern and Central Europe. We will also focus on how to motivate teenagers by implementing technology into their environment."
Each attendee will have the opportunity to try and test MyEnglishLab functionality, as by visiting this workshop you will be given your own free access to MyEnglishLab.
Biodata
Adrian Chróstowski has over 15 years of experience in the field of ELT. He had worked at one of the private language schools in Warsaw before he assumed the position of an ELT Consultant at Pearson Longman. Recently, as a Learning Solutions Executive, Adrian has been advising the biggest private language schools and tertiary institutions in Warsaw. Since February 2012 Adrian has also been responsible for promoting PTE and LCCI exams in Poland and other CE countries. He specialises in supporting teachers and other representatives in implementing blended learning solutions and the elements of digital learning and teaching in the classroom.