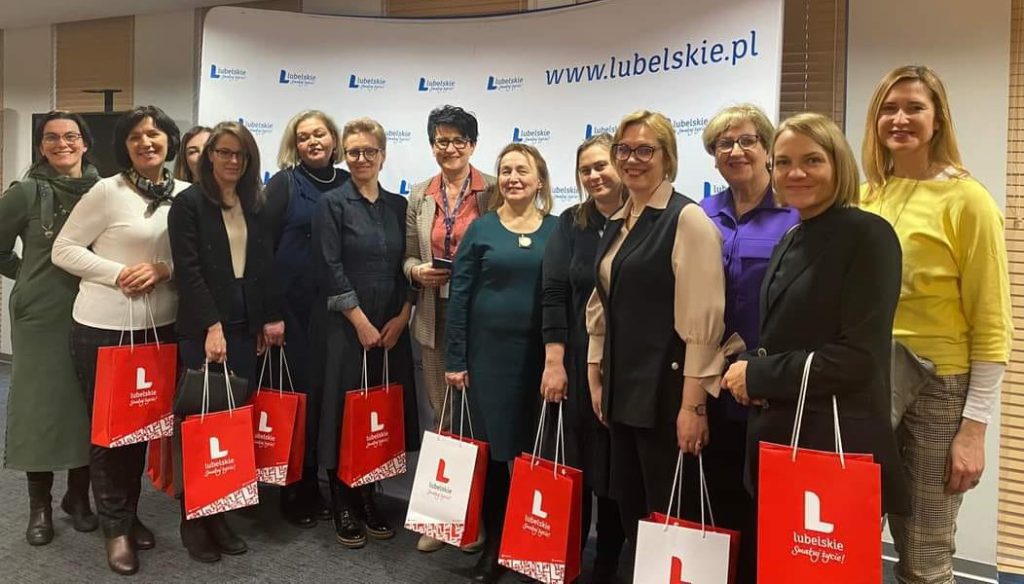 On March 13-17, ten foreign language teachers from Lithuania took part in an internship organized by the National Education Agency in Lublin, Poland. The purpose of the internship was to get familiar with the Polish education system and compare educational systems between the two countries. We are proud to mention that eight teachers in the group are members of LAKMA.
On the first day, we visited the Teacher Training Centre where we learnt what educational reforms have been carried out and what challenges teachers have faced in Poland in the past years. After the engaging discussions, we toured the city and visited the Central Square of Lublin which is called the Lithuanian Square. There is a monument to the Union of Lublin which symbolizes the friendship between Lithuania and Poland. We even got the opportunity to use a teleportal to Vilnius.
The second day of the internship began with a visit to one of the oldest lyceums, where we observed an English lesson for 11th graders. 9th graders showed us around the school and shared their educational experiences and achievements. Later in the day, we visited the Department of Culture, Education and National Heritage to discuss the challenges of improving specialist qualifications in inclusive education. To end the day, we visited a cultural and leisure centre, an impressive building of modern architecture.
On the third day, we visited Lublin Vocational Training School, where we learned about the school's structure, professions available for students after completing primary education and dual education. We also observed an English lesson for 10th graders and had a chance to talk with the teachers. Later, we had the opportunity to meet with the Head of the Education Department of the City of Lublin, who presented the Polish education system's strengths, problems, future expectations and answered our questions.
On the final day of our internship, we visited a private school and the Faculty of Philology of Maria Curie – Skłodowska University. We observed an English class for 10th formers at the private school and had a collegial discussion with the academic staff members and MA students of English and Spanish at the Faculty of Philology about the present and future of the teaching profession. We concluded our visit by exploring the historic Old Town of Lublin.
Our internship in Lublin was a great experience, and we returned to our schools with new ideas and a fresh perspective on education.

LAKMA contact person Dalia Krasauskienė