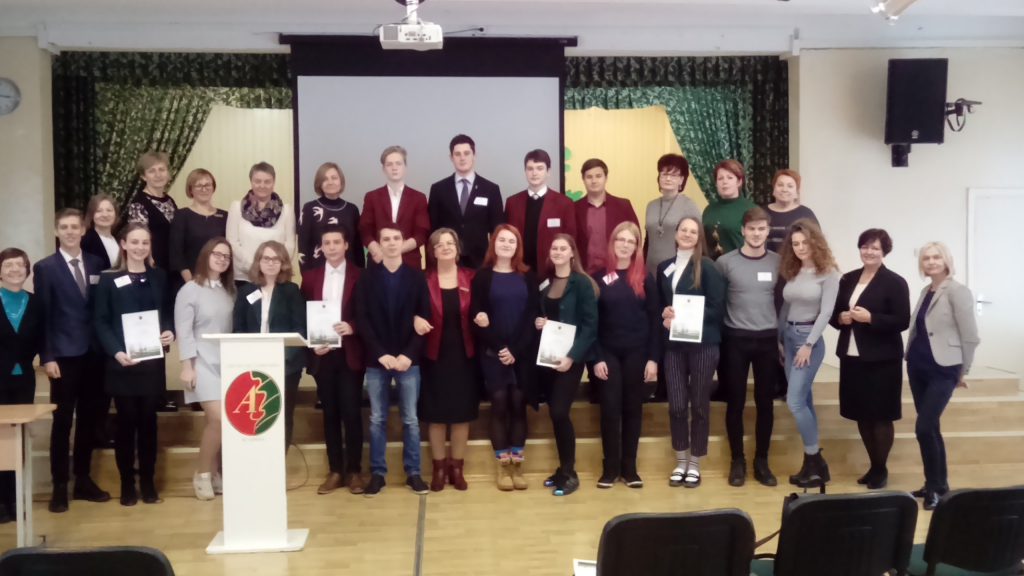 Report by teacher-expert Vitalija Pliakuvienė
In this fast changing world the main aim of education is to stimulate students' creativity and increase their capability to use technologies in oder to develop a wide range of skills. Different IT programmes inspire students to create new products and thus enhance their foreign language knowledge and skills.
The first Klaipėda region students' conference "Teaching and Learning Innovatively" was organised at Klaipėda "Ąžuolyno" gymnasium on 24 November 2017. The participants of the conference had an opportunity to listen to two plenary speakers: Ramunė Petrauskienė, teacher-expert at "Ąžuolyno" gymnasium, and Dr. Robin Gingerich, associate professor at LCC International University.
Students from Klaipėda "Aitvaro", "Ąžuolyno", "Baltijos", "Varpo", "Vėtrungės", Vytautas Magnus gymnasiums and Gargždai "Vaivorykštės" gymnasium worked in three parallel sessions. 19 students made presentations and shared their experience of using different IT programmes as a useful tool for CLIL lessons, where learning English is integrated with learning Maths, Biology, Physics, History and other subjects. Presentations were followed by discussions, which created a friendly atmosphere. At the end of the conference all participants received certificates and gifts.
This conference was an opportunity for students to show their excellent skills of making presentations in English. We believe that both teachers and students have increased their understanding of the importance of the application of different IT programmes in the teaching and learning of foreign languages.
CONFERENCE AIMS:
To motivate students to share their experience of learning English innovatively
To stimulate students' and teachers' interest in the changes of the educational content and organization of learning and teaching English
CONFERENCE TOPICS:
Effective use of IT for teaching and learning English
Creativity and technological innovations in projects
Youth problems today
Content and Language Integrated Learning (CLIL)
Stress and body language
CONFERENCE PROGRAMMEPLENARY TALKS
Ramunė Petrauskienė, teacher-expert of Klaipėda "Ąžuolyno" gymnasium: "Debates as the most important tool for the development of critical thinking"
Robin Gingerich, LCC English Department Chair: "Innovations in the Classroom"
PARALLEL SESSIONS
Group I
Greta Kabanovaitė "IT – a great help when doing projects".
Teacher Vitalija Pliakuvienė, Klaipėda "Ąžuolyno" gymnasium
Leonid Mina "Innovation: Taming technologies for educational purposes".
Teacher Tatjana Larionova, Klaipėda "Aitvaro: gymnasium
Nortautas Zenevičius "Why video projects are taking the school by storm".
Teacher Rita Kisielienė, Klaipėda Vytautas Magnus gymnasium
Julija Plesevičiūtė "DoFe motivates young people".
Teacher Giedra Aliulienė, Gargždai "Vaivorykštės" gymnasium
Inesa Milkerytė, Dovydas Pranauskas "Stress. What? Why? How?"
Teacher Birutė Buinevičienė, Klaipėda "Vėtrungės" gymnasium
Tadas Lukavičius, Patricija Lapienytė "Power comparison between a grasshoper and a human being". Teacher Ingrida Petkienė, Klaipėda "Ąžuolyno" gymnasium
Group II
Vladislav Žurba "A lesson not at a school desk".
Teachers Liubov Miloradova, Natalija Domnenko, Klaipėda "Aitvaro" gymnasium
Ema Purickaitė "Maths in your pocket".
Teacher Inga Mickevičienė, Klaipėda "Ąžuolyno" gymnasium
Monika Gailiūtė "Co-learning with the Americans"
Teacher Aušra Skeivytė, Klaipėda "Varpo" gymnasium
Eglė Markaitytė and Karolis Koroliov "What does your body language convey?"
Teacher Birutė Buinevičienė, Klaipėda "Vėtrungės" gymnasium
Lukrecija Giedraitytė "Can I change the environment where I live?"
Teacher Sonata Abramova, Klaipėda "Ąžuolyno" gymnasium
GROUP III
Kotryna Žemaitytė "How to make learning fun?"
Teacher Sonata Šilinskienė, Klaipėda Hermanas Zudermanas gymnasium
Mantas Vičius "Co-learning with the Europeans".
Teacher Aušra Skeivytė, Klaipėda "Varpo" gymnasium
Deimantė Gudauskaitė "A different look at the youth problems".
Teacher Daiva Elertienė, Klaipėda "Baltijos" gymnasium
Daniel Tarachovskij and Aleksandr Katalov "Inter-school projects".
Teachers Oksana Tiapševa and Violeta Golubova, Klaipėda "Aitvaro" gymnasium
Rugilė Krikščiūnaitė "The FLEX program".
Teacher Ingrida Petkienė, Klaipėda "Ąžuolyno" gymnasium