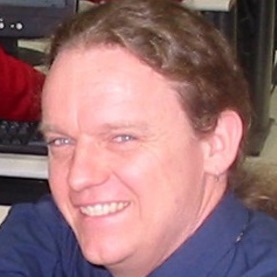 BIODATA
Keith KELLY (keithpkelly@yahoo.co.uk) is a freelance education consultant based in Bulgaria. He is an experienced teacher and teacher trainer, a team member of Science Across the World. Keith is also a founder and coordinator of the Forum for Across the Curriculum Teaching (FACTWorld). From 1999-2003 Keith was coordinator of the English Across the Curriculum project for the British Council in Bulgaria where he worked in and with bilingual schools around Bulgaria and the region. Keith is author of the Macmillan Science and Geography Vocabulary Practice Series and is editor for the 'CLIL Teacher' magazine and consultant to Macmillan's onestopclil website. He is also part of the Voices writing team for the Zurich Educational Publishing House and with John Clegg is co-author of the OUP Geog1 EAL Workbook. Keith was made a Fellow of IUPAC (The International Union of Pure and Applied Chemistry) in January 2008 for his contributions to the programme. He has been working as a freelance education consultant since August 2003 on education projects mainly focusing on the teaching of content through the medium of a foreign language. Keith's latest project is the opening of a new CLIL school for children from the age of 2 to 9 in September 2012 in his home town of Plovdiv. Anglia School (www.anglia-school.info) provides English language classes entirely based on principles of content and language integrated learning.
PLENARY CLIL for ELT
Content and Language Integrated Learning has built up a steady growing following of teachers around the world. This plenary will outline the basic ideas, challenges and advantages behind offering content curriculum subjects such as Geography, History and Science through the medium of a foreign language. The talk will go on to describe the benefits of a CLIL approach for the language classroom. Some of these benefits include bringing the real world into the language classroom; creating contexts for meaningful communication; introducing projects which link with the rest of the curriculum and develop learner language.
WORKSHOP Content Projects in the Language Classroom
Are you curious what goes on in the Science classrooms in your school? Are you interested in aspects of History? Are you tempted to bring some Geography into your English lessons? Would you like a checklist of subject themes and activities that you could easily use in your lesson for teaching English? If the answer to any of these questions is yes, this workshop is for you.
The workshop will present a range of short and easy subject-related project activities easily adaptable to the English lesson. Participants will be asked to carry out the activities as learners and discuss them as teachers. A global network of over 3500 teachers all interested in cross-curricular teaching will be presented and participants invited to join.